Jerry Goldsmith composed the catchy theme for The Man From U.N.C.L.E. It was performed differently each season, with the mood becoming progressively jazzy. According to the end credits of The See Paris and Die Affair, the theme was performed by The Gallants.
Many other composers were also involved in the U.N.C.L.E. score, including Morton Stevens, a prolific composer who is fondly remembered for his theme for Hawaii Five-O.
Now, the original soundtrack has finally been released! Visit Film Score Monthly. It is a two-disc collection of episode scores from THE MAN FROM U.N.C.L.E., including the main theme arrangements from each season as well as scores by Jerry Goldsmith, Morton Stevens, Lalo Schifrin, Walter Scharf, Gerald Fried, Robert Drasnin, and Richard Shores.
The disc features an illustrated 28-page booklet and liner notes by TV music expert Jon Burlingame. The disc sells for $24.95.
ALBUM RELEASES
In the '60s, fans were treated to three albums based on the score from U.N.C.L.E., but they are not the original music (even though the name of the first album is entited Original Music From The Man From U.N.C.L.E. The others are More Music From The Man From U.N.C.L.E. and Music from The Girl From U.N.C.L.E.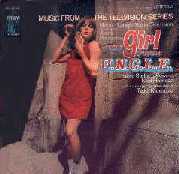 Both of the Man From U.N.C.L.E. albums were released in CD-format. They are available from CC MUSIC for $21.95 each (plus shippling).
BMG/RCA in Germany released both of the albums on a CD. It is called The Man From U.N.C.L.E. (very original!), #74321241792, containing 24 tracks and clocks in at 55:07.
Also, in 1997, Razor and Tie released a CD entitled The Music From U.N.C.L.E. (The Original Soundtrack Affair) compiling 15 tracks previously released on the albums. It is a good addition to a your collection even if you already have the music. The photo imprinted on the CD is a publicity still from the episode The Virtue Affair. The program notes are also loaded with photos and also covered a brief history of the series. You can order it from CDNOW for U.S. $12.99 plus postage (search for "man from u.n.c.l.e." under the "soundtrack" category) or directly from Razor and Tie's website for U.S. $11.98 plus postage.
Finally, if you want the original Jerry Goldsmith arrangement of the main title theme (even if it is not complete), you can try the 1991 CD Bond and Beyond, featurinig Erich Kunzel and the Cincinnati Pops. It is included as part of a television theme medley. That CD can be purchased at Music Boulevard ($14.99 plus shipping).
U.N.C.L.E. THEME ON THE INTERNET
FOUR free downloadable CD compilations of music from "U.N.C.L.E." from Mark Alfred.
These are the titles, followed by links to each post:
MA-01 - The Themes from U.N.C.L.E. -- http://spocksrecordround-up.blogspot.com/2014/05/re-post-ma-01-themes-from-uncle.html
MA-53 - More Themes from U.N.C.L.E. -- http://spocksrecordround-up.blogspot.com/2014/07/for-last-time-ma-53-more-themes-from.html
MA-67 - U.N.C.L.E. Themes A-Go-Go -- http://markssuperblog.blogspot.com/2013/12/ma-67-uncle-themes-go-go-merry.html
MA-69 - Final Themes from U.N.C.L.E. -- http://markssuperblog.blogspot.com/2014/07/ma-69-final-themes-from-uncle.html

Each compilation is distinct, and there are no duplications from one to any other.

TNT owns the broadcast rights to the U.N.C.L.E. series. If you check out the MAN FROM U.N.C.L.E. page on its official website, go to The MULTIMEDIA ARCHIVE. You can find the theme from the Man From U.N.C.L.E and also a video of the opening credits and theme. They are the second season version. All files are in Quicktime format.
SOUNDTRACK WISH LIST
What tracks will you include in the real original soundtrack album (or CD - for the younger fans ) if you get to choose?

READERS' CHOICE
Of the many different renditions of the U.N.C.L.E. theme, which one do you like best? Here's the response from some fans:

If you have your own favorites, let us know and we'll include it here!