U.N.C.L.E. the Show
Background and History
Contributors Behind the Scene
Actors
Episode Guide
The Return Movie
The Characters
The Gadgets
The Soundtrack
Print Tie-ins
TV Schedule
Articles
Other Resources
Buying and Collecting U.N.C.L.E.
Vintage Collectibles
Memorabilia
Videos / Laser Discs
Where to Buy
U.N.C.L.E. Fan Fiction
Introduction
In Print
Online
Spotlight on Authors
Interact with Other Fans
Media Conventions
Mailing Lists
Fan Clubs
Newsletters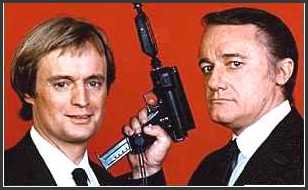 In 1983, U.N.C.L.E. fans were treated to an U.N.C.L.E. reunion television movie entitled Return of the Man from U.N.C.L.E.: The Fifteen Years Later Affair. Both Robert Vaughn and David McCallum reprised the roles they made famous in the '60s. However, Mr. Waverly did not make any appearance. Because Leo G. Carroll passed away already, instead of recasting the role, a new head of U.N.C.L.E., Sir John Raleigh, was introduced. He was played by Patrick Macnee of Avengers fame.
In the beginning of the movie, Napoleon Solo and Illya Kuryakin have both resigned from U.N.C.L.E. years before. However, when Sepheran, their nemesis from THRUSH, escapes from jail and hijacks a nuclear device, both are lured back to do the job they have done so well before - to save the world.
While fans were overjoyed to see their two favorite spies in action, many were disappointed in the script. It was certainly better than some of the episodes from the dreaded third season; on the other hand, expectations were higher since many had waited over fifteen years for this reunion. A common complaint was that Vaughn and McCallum shared very few scenes together, therefore there was little opportunity to see their interaction which was one of the essential elements of the show.
Though Kuryakin's departure from U.N.C.L.E. was explained fully, the audience never found out why Solo left which, in and of itself, many fans found incredulous. Solo as a computer businessman and Kuryakin as a fashion designer also required quite a stretch of one's imagination. (Rumour has it that the original script had their professions the other way around, which appears to make more sense, but McCallum thought it would be interesting to switch them so that the viewers would be surprised. And surprised they were.)
Regardless of its provenance, Illya's affiliation as a clothing designer with "The House of Vanya" resonates on more than one level. Students of Russian drama may remember the Chekhov classic "Uncle [get it?] Vanya." Not long before production began on the reunion movie, a big-budget staging of "Uncle Vanya" had toured U.S. theaters with Peter O'Toole in the title role. O'Toole, of course, achieved fame in the 1962 film "Lawrence of Arabia" as a devastatingly blond, blue-eyed, enigmatic Lawrence -- a reflection of his own characteristics that Illya exploited with deadpan comedic skill in "The Arabian Affair."
Neither Vaughn nor McCallum were averse to the notion of returning to the grind of television serial work if Return proved successfully enough to be picked up by the network as a weekly show. Unfortunately, while the ratings were satisfactory, CBS was not interested and a series never materialized.
Click here for some behind the scenes photos (courtesy Lee Pfeiffer) of The Return of the Man from U.N.C.L.E. press conference.
OTHER WEBSITES