As befitting U.N.C.L.E.'s stature as a cult favorite, a number of books and articles have been written on the show. For more information on how to get hold of the out-of-print sources, go take a look at our WHERE TO BUY section.


THE MAN FROM U.N.C.L.E. BOOK - The Behind-the-Scenes of a Television Classic
by Jon Heitland
No self-respecting fan should be without a copy and with a suggested retail price of $14.99, cost is not an excuse! The book contains over 250 pages of valuable information on possibly everything you want to know about the show. Take a look at some of the chapters in Act III entitled The Making of a Television Series: Behind the Scenes of the Man From U.N.C.L.E. (yes - Jon used the 4-Act layout!) to get a sense of its comprehensive coverage: Producing U.N.C.L.E., Directing U.N.C.L.E., Scoring U.N.C.L.E., The U.N.C.L.E. sets, The U.N.C.L.E. Guest Stars. And the list goes on.

Not convinced? Go visit Jon's website to read a chapter from the book. You can also find information on ordering a copy from him that will come autographed.

The book is also available for purchase at major bookstores. If you cannot find it on the shelves, speak to a sales representative to place a special order. Otherwise, you can try the one of the many e-retailers on the Internet that would love to have your business, e.g., Amazon, SPREE, etc.


THE MAN FROM U.N.C.L.E. TRIBUTE BOOK
by Robert Anderson
Published in 1994, this 220-page book contains lots of U.N.C.L.E. info. The production value makes one wonder if this was put out in a hurry. Some of the photographs were poorly reproduced and there's a number of typos. Nonetheless, if you are an U.N.C.L.E. fan who wants to have everything, this book is worth getting since it does contain some information not found elsewhere, especially on the history behind the paperbacks and the various attempts in the '80s to revive the show.
Unfortunately, this series is out-of-print.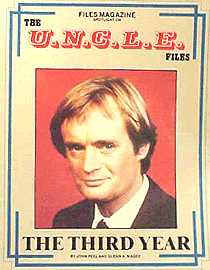 THE U.N.C.L.E. FILES
by John Peel
FILES Magazines is a series of paperback magazines that spotlights various cult television shows. For the MAN FROM U.N.C.L.E., a total of 12 9X12 softcover books were published and is entitled The U.N.C.L.E. Files.
There were also three FILES magazines on THE GIRL FROM U.N.C.L.E.
Each is about 50 pages and chronicling primarily the episodes but also contains a lot of other interesting U.N.C.L.E. tidbits.
| | |
| --- | --- |
| The Mission Begins Part One * | The first season |
| The Mission Begins Part Two * | Continuing coverage of the first season |
| The Second Year * | Episodes #30-45 |
| The Affair Continues | Episodes #46-52 |
| Deadly Games | Episodes #53-59 |
| The Third Year | Episodes #60-66 |
| Off Broadway | Episodes #67-72 |
| Take Me to Your Leader | Episodes #73-80 |
| Pieces of Fate | Episodes #81-89 |
| The Deadly Quest | Episodes #90-97 |
| The Man from THRUSH | Episodes #98-104 |
| 15 Years Later Affair | The Return of U.N.C.L.E. |
| GIRL FROM U.N.C.L.E. Part 1 | Episodes #1-10 |
| GIRL FROM U.N.C.L.E. Part 2 | Episodes #11-20 |
| GIRL FROM U.N.C.L.E. Part 3 | Episodes #21-29 |
There is also another release of FILES Magazines that cover the first season - they are entitled The Earliest Days (Solo and episodes #1-15), The Show Takes Off Part One (episodes 16-22) and The Show Takes Off Part Two (episodes 23-29). This version is available in both the regular paperback format as well as a Special Collector's Edition in the form of a single hardback book.
Unfortunately, this series is out-of-print.
* Also available in a hardcover version.
THE U.N.C.L.E. Technical Manual: A Companion Volume to the U.N.C.L.E. Files, Volumes 1 and 2
by Glenn A. Magee
The two volume set is an illustrated guide to the gadgets and props used on the series. As its name suggests, it is a companion magazine to The U.N.C.L.E. FILES and follow the same production format.
Like the U.N.C.L.E. Files, this set is also out-of-print.
BANG BANG, SHOOT SHOOT: ESSAYS ON GUNS AND POPULAR CULTURE
Editors - Murray Pomerance and John Sakeris
This book contains 20 papers originally presented at a conference held by Ryerson Polytechnic University in Toronto, Canada which look at the role of guns and violence in films and television. C.W. Walker has penned one of the papers which is of particular interest to U.N.C.L.E. fans - it is entitled The Gun as Star and the "U.N.C.L.E. Special". For a more detailed description of the book, please take a look at the webpage maintained by Ryerson. You can purchase it online from Amazon for U.S. $22.99 plus shipping.