U.N.C.L.E. the Show
Background and History
Contributors Behind the Scene
Actors
Episode Guide
The Return Movie
The Characters
The Gadgets
The Soundtrack
Print Tie-ins
TV Schedule
Articles
Other Resources
Buying and Collecting U.N.C.L.E.
Vintage Collectibles
Memorabilia
Videos / Laser Discs
Where to Buy
U.N.C.L.E. Fan Fiction
Introduction
In Print
Online
Spotlight on Authors
Interact with Other Fans
Media Conventions
Mailing Lists
Fan Clubs
Newsletters


U.N.C.L.E. is no longer on primetime, but you can still catch it on cable broadcasts occasionally all over the world.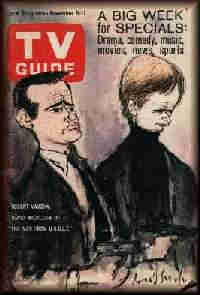 AMERICAN LIFE CHANNEL
As of September 2005, MFU has been airing on AmericanLife TV . Take a look at the Man From U.N.C.L.E. page.
GETTING MORE U.N.C.L.E. ON THE AIR
Here's a suggestion that may be worth trying:
Write to your local Public Broadcasting Station and request it to show U.N.C.L.E. WKTC, the PBS station in St. Louis, aired the entire run of the show (except for Alexander the Greater Parts I and II) in its original broadcast sequence, uncut commercial-free at least twice between 1996 and 1997.