U.N.C.L.E. the Show
Background and History
Contributors Behind the Scene
Actors
Episode Guide
The Return Movie
The Characters
The Gadgets
The Soundtrack
Print Tie-ins
TV Schedule
Articles
Other Resources
Buying and Collecting U.N.C.L.E.
Vintage Collectibles
Memorabilia
Videos / Laser Discs
Where to Buy
U.N.C.L.E. Fan Fiction
Introduction
In Print
Online
Spotlight on Authors
Interact with Other Fans
Media Conventions
Mailing Lists
Fan Clubs
Newsletters


Well, now that you have seen all the wonderful U.N.C.L.E. merchandise, the next logical question is probably : where can I buy some?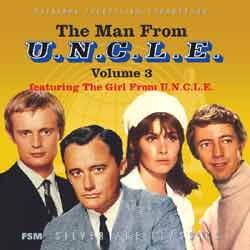 Get the music on cd from Film Score Monthly

You can purchase the entire series, or just season 1 on dvd from our home page.

Throughout this website, we have sprinkled links to online sources where merchandise is available relating to the content of that page. For example, you can find links to online video retailers on the Videos / Laser Discs page, although warning - the links may be outdated. Miscellaneous nonvintage memorabilia can be found at Memorabilia page. This website is not affiliated with any of the merchants or sellers in any way, shape or form. Be an educated consumer and ask the seller questions before placing an order!

One of the largest and probably best known online auction site, eBay generally has more than a hundred U.N.C.L.E.-related items available at any given time. Go to the search page and put in "Man from UNCLE" under "title search" and you will see. (Also try "Man from U.N.C.L.E" because the eBay search engine do not equate the two). Or try putting in "Robert Vaughn" or "David McCallum".

Some of the items are widely available, e.g., the soundtrack album, low-number ACE paperbacks, comics, etc. Every once in a while, you will see some obscure or hard-to-get items, e.g., the Japanese version of The Doomsday Affair (Number 2 of the Ace novel), or an original-sealed mint-in-box Napoleon Solo attache case (with a starting bid of $1000!).

If you want to jump in the fray, make sure you research the market and know how much the item is worth and also set a price for yourself. Otherwise, it is easy to get carried away by auction fever and end up paying far more for something than what it is worth. If you are new to eBay, it might also be a good idea to observe for a while before you start bidding.

Operated by longtime fans, Lee Pfeiffer and Ron Plesniarski, Spy Guise has been around since the early '80s and is well known in the fan community for offering one of the best collection of spy-themed movie and television memorabilia. In addition to U.N.C.L.E. merchandise, Spy Guise also carries lobby cards and other miscellaneous paraphernalia from movies featuring Robert Vaughn and David McCallum.

Spyguise's website only lists a very small portion of what it has to offer. Be sure to write and request its giant paper catalog.

Larry's Comic Book Store specializes in books and magazines on movies and television series. On the website you will find its Sci-Fi-Spy Media Catalog, an extension of the Chicago store which has been in business since the early '70s. Take a look at the U.N.C.L.E. page. Larry's has the U.K. 1990's paperback reprints for $8.50 each (plus shipping). You can also find the out-of-print U.N.C.L.E. Files and Technical Manual available at their original list price. (Why pay $100+ for a copy of the Technical Manual on eBay if you can get it for $9.95 here?) Check out the media magazines Larry carries, e.g., Epilog, Starburst, TV Zone, etc. and you may want to keep an eye out for those that have U.N.C.L.E. coverage. Or you might want to buy some lobby cards and movie posters. Don't forget to visit Larry's What's New page which is updated biweekly.

If all else fails, go to a search engine on the Internet such as Altavista and search for "U.N.C.L.E." and "memorabilia" or the specific item you are looking for. You might be pleasantly surprised! But at the risk of sounding redundant - research the product you are interested in buying and remember to check out the seller's credential's before sending in your hard-earned money!