U.N.C.L.E. the Show
Background and History
Contributors Behind the Scene
Actors
Episode Guide
The Return Movie
The Characters
The Gadgets
The Soundtrack
Print Tie-ins
TV Schedule
Articles
Other Resources
Buying and Collecting U.N.C.L.E.
Vintage Collectibles
Memorabilia
Videos / Laser Discs
Where to Buy
U.N.C.L.E. Fan Fiction
Introduction
In Print
Online
Spotlight on Authors
Interact with Other Fans
Media Conventions
Mailing Lists
Fan Clubs
Newsletters


STEFANIE POWERS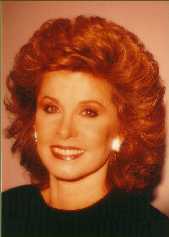 Stefanie Powers: humanitarian, conservationist, world traveller, adventurer, and of course actor. Whether she's studying the migrating caribou in Newfoundland or raising funds as President of the William Holden Wildlife Foundation, she has a great passion for her work. Most people know her as Jennifer Hart in the 80s series Hart to Hart but for U.N.C.L.E. fans, Powers is best remembered for bringing that certain spark to the role of April Dancer in the single-season run of The Girl From U.N.C.L.E. She's performed in theatre such as Love Letters, sung and danced in musicals, and has not only starred in, but written and produced many television movies. Stefanie is a gracious, hard working, remarkable woman.
Stefanie Powers was born Stefanie Zofia Federkiewicz on November 2, 1942 in Hollywood California. With her mother's encouragement, Stefanie got a part as a dancer in the movie West Side Story. After several weeks of rehearsal, she was fired because she was underage. But she had caught the attention of director Blake Edwards, who cast her in her first feature film Experiment in Terror with Lee Remick and Glenn Ford. Stefanie continued acting in feature films until she accepted the role of April Dancer. After The Girl From U.N.C.L.E., she starred in many television movies and appeared in the occasional feature film. After a five-year run as Jennifer in Hart to Hart, Stefanie concentrated on television and starred in popular miniseries such as Deceptions, Mistral's Daughter.
In her personal life, Stefanie is devoted to conservation and has concentrated her efforts in Kenya as the President (and founder) of the William Holden Wildlife Foundation.
FILMOGRAPHY
OTHER WEBSITES
TELEVISION APPEARANCE SCHEDULE
Listing from TV-NOW
TV-NOW provides a monthly schedule for Stefanie's appearances on television. Note, however, that it does not cover local stations. If you want that information also, go to the search engine at TV GUIDE or ClickTV or another online television schedule. Some of these sites may require registration and most only provide listings for the upcoming seven days (ClickTV has 14).
Back to ACTORS Index Page