LEO G. CARROLL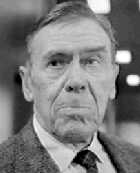 Leo Grattan Carroll was born in Weedon, England on October 25, 1892, to Irish parents. He became an apprentice wine merchant at the age of fifteen but caught the acting bug and made his professional debut on the London stage in 1911.
During World War I, Carroll served in the infantry and fought in France, Greece and Palestine, where he was put out of action by a bullet and hospitalized for two years. After Carroll recovered, he continued appearing in theatre on both sides of the Atlantic when eventually in 1934, he moved to Hollywood and began taking roles in movies such as Wuthering Heights, Suspicion, Rebecca. In 1959, he appeared in North by Northwest, the Alfred Hitchcock thriller that contains many stylistic parallels to THE MAN FROM U.N.C.L.E., and played a paternalistic intelligence agency chief.
By the time Carroll was cast as Alexander Waverly, the crusty head of Section One, he was already a familiar face to the American television audience, having starred in Topper (with Bob Sterling and Anne Jeffreys) and Going My Way (with Gene Kelly).
His Waverly portrayal had brought two Emmy nominations for Carroll for Outstanding Performance by an Actor in a Supporting Role in a Drama (in 1966 for THE MAN FROM U.N.C.L.E. and in 1967 for THE GIRL FROM U.N.C.L.E.). But he never won.
Carroll passed away in 1972.
FILMOGRAPHY
Back to ACTORS Index Page